---

Maserati
Established 1914: Bologna, Italy
At its heart a simple, yet obsessive performance garage, Maserati suffers from popular ignorance of its heritage. But most would not recognize the first half-century of Maser production because it was dedicated to racing. Financial necessity brought Maserati cars to public roads, but the passion for racing remained well into the 1960s. Founded by the brothers Maserati—Alfieri, Bindo, Carlo, Ettore, and Ernesto—control passed to the Orsi family in 1937, whence the surviving brothers established O.S.C.A.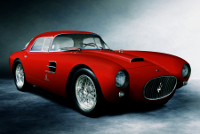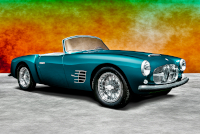 Maserati A6G/54 2000 Spyder by Zagato, #2101, 1955
Chassis #2101 debuted at the 1955 Geneva Salon, and was later displayed at the Paris Motor Show in 1958 while still in the possession of Zagato. The car is unique among the Maserati A6 family, and exceptionally rare for Zagato in that it is an open car, rather than closed.
11 photos
Sep 6, 2017