---

Jaguar
Established 1922 as the Swallow Sidecar Company: Blackpool, England
Jaguar may lack the natural romanticism of Aston Martin, having survived the dirge of BMC and British Leyland ownership from the 1960s to the mid-80s, but the marque has proved hugely significant. Jaguar brought twin-cam motoring to ubiquity with the XK series, created an international design shift with the D-Type, XKSS, and E-Type evolution, and while they were at it Jaguar won the 24 Hours of Le Mans seven times. Aston may be effortlessly romantic, but Jaguar is truly iconic.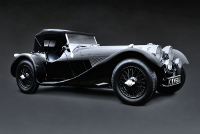 SS 100 Jaguar 3 1/2 Litre Roadster, #39002, 1937
This car is the second SS 100 built. It is the oldest known example, and is widely considered to be the finest in existence. All major components are original, and the car's restoration spared no detail in exacting the presentation down to the finest hair.
8 photos
Nov 6, 2017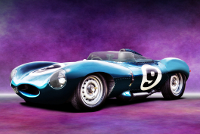 Jaguar D-Type Short Nose, XKD 515, 1955
The D-Type is a voluptuous form from any angle. Even in profile, the curvaceous front shoulders and deeply sculpted nose are as well formed and broad as a champion swimmer's, while the haunches are enunciated in a way that reveals a smooth, yet, powerful fluidity throughout the tail.
8 photos
Aug 19, 2017