Horch
Established 1904: Zwickau, Germany
Horch is the seed for what we now know as Audi. Founder August Horch, after his ouster in 1909, established a new firm using the Latin derivation of his German surname. And so, from horchen to audire, Horch founded Audi. By 1932, these two marques and two others, DKW and Wanderer, formed Auto Union, the four rings symbolic of the merger. Meanwhile, tinder for the company's classic era 8-cylinder was helped by purchasing the American Rickenbacker firm. Horch production ended in 1940.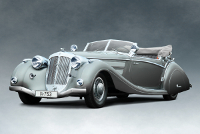 Horch 853 Sport Cabriolet by Voll & Ruhrbeck, #853558, 1937
Best of Show winner at the 2009 Pebble Beach Concours d'Elegance, an exercise in ornamental immensity.
4 photos
Aug 23, 2017