---
Delahaye
Established 1894: Tours, France
Audiences beyond France associate Delahaye with the glamor of the classic era, whereas at home the firm produced consumer automobiles, and grew its heavy truck business to become its primary source of revenue. The company's gravitation toward motorsport and upmarket cars was driven by two women, Madame Leon Desmarais, widow of the primary shareholder, and Lucy O'Reilly Schell. A wealthy sportsman in her own right, Schell funded the development of competition-spec 135 cars, and Desmarais established a new racing department. So it was that Delahaye capitalized on its early motoring advancements, restoring the marque to international notoriety.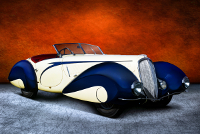 Delahaye 135 Competition Court Torpedo Roadster by Figoni et Falaschi, #48667, 1937
One of two original surviving cars of its kind, chassis #48667 is perhaps the most noteworthy of many ostentatious Figoni et Falaschi roadsters. The design originated on the advertising pages of Geo Ham, a French illustrator whose eye for depicting motion we now think upon as classically representative of Art Deco style.
8 photos
Mar 3, 2018