---

Cord
Established 1929: Connersville, Indiana
Errett Lobban Cord created a small empire of luxury and sport motoring, bringing together Auburn, Duesenberg, Lycoming, Stinson, Checker Cab, American Airways, and the Limousine Body Company. His namesake marque fit snugly between the mid-market Auburn and world-beating Duesy, though its raison d'etre would be innovation. Cord became among the first front-drive automobiles, debuted pop-up headlights, and made use of inboard brakes and semi-automatic transmissions. E.L. Cord's namesake automobiles also trended on the leading edge of design. Lower, sleeker, and more tidy than most, Cord were the envy of the American auto industry, even if commercial viability proved elusive.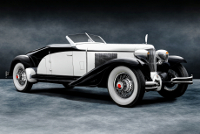 Cord L-29 Brooks Stevens Speedster, 1930
This Cord L-29 can be considered an indelible mark of Brooks Stevens' life in design. With the help of his father, he acquired the car in the early thirties, slightly used, and soon enough decided to personalize it with his own design.
7 photos
Aug 19, 2017