Bugatti
Established 1909: Molsheim, France
Bugatti should be defined as a near-perfect balance between artistry and machinery. Owing some early advancement to Harry Miller, Bugatti cars are the vision of founder Ettore and son Jean, artists who worked in the medium of motoring. Perhaps no other marque was ever so loved as Bugatti, because no other marque imbued its products with such an evocative character. With speed and luxury in astonishing variety, the Bugatti catalogue is incomparable.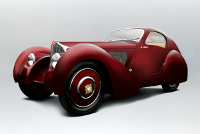 Bugatti Type 51 Coupe by Louis Dubos, #51133, 1931
A unique aerodynamic sports car created in 1937 on top of a retired Type 51 Grand Prix car, chassis #51133 crossed paths with Chiron, Dreyfus, and Trintingnant. Following a 50-year separation of body and chassis, the car was rebuilt in 2003.
5 photos
Aug 19, 2017