---

Aston Martin
Established 1913: London, England
A much older motor racing concern than most realize, Aston Martin has remained true to sports car production in a fashion few enthusiast marques have managed. However, international racing success hasn't followed easily. Few breakthrough performances define Aston's competition history, and yet the marque is perhaps the most nostalgically British, at least from a global perspective. Romance defines Aston Martin as it does Ferrari, stirring a similar lust in fans of fast cars.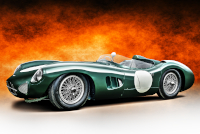 Aston Martin DBR1, Chassis #3, Nürburgring 1,000 km, 1958
In addition to capturing overall victory at the 1959 24 Hours of Le Mans, the DBR1 is notable for winning the Nürburgring 1,000 km race three times on the trot, from 1957 to 1959. This car is the 1958 winner.
10 photos
Aug 24, 2017