Talbot-Lago
Established 1935: Suresnes, France
The Anglo-French trio of Sunbeam-Talbot-Darracq dissolved between 1933 and 1935, with one Anthony Lago of Venice stepping forth with the desire to create a sporting marque of international renown. Within a few years, Lago's firm produced a complement of the fastest and most alluring automobiles available to driving enthusiasts. Often serving both road and race duties, Talbot-Lago cars were technically potent, while the best coachbuilders of Paris found the chassis a dream to clothe.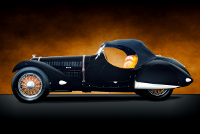 Talbot-Lago T150-C SS Roadster by Figoni et Falaschi, #82928, 1937
A unique sports roadster with two sets of coachwork, the first created by Andreau for the 1937 Paris Salon.
8 photos
Aug 23, 2017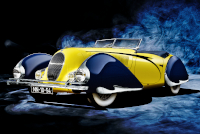 Talbot-Lago Darracq T150-C S Cabriolet by Figoni et Falaschi, #90019, 1938
The lone Geo Ham-designed Torpedo Roadster on a Talbot-Lago chassis, this car is beautiful and bombastic, with an added measure of mystery.
19 photos
Sep 14, 2017