Pierce-Arrow
Established 1901: Buffalo, New York
Many sources will recount how earlier versions of the Pierce Motor Company were famous for gilded birdcages in the 19th century, and later bicycles. Once an internal-combustion vehicle came along in 1901, the seed was sown. Quite quickly, the Arrow and Great Arrow models established the firm as a leader in durability and refinement of this fledgling motorcar concept, and the separation of company and model was latterly terminated in 1908. So, from Victorian baubles to the forefront of the American automotive industry, Pierce-Arrow became the best among handbuilt cars in the brass era. The firm was among the first to develop six cylinder motors, and were pioneering in their use of aluminum. Early technical sophistication gave way to conservatism, however, and ultimately the firm could not compete against the class and sophistication that came alive in the 1930s.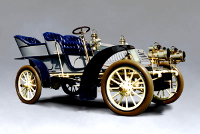 Pierce 15hp Rear-Entrance Tonneau, 1903
The early Pierce Motorette proved commercially viable, which emboldened the Pierce Motor Company to expand on the idea by building this, its first fully fledged horseless carriage.
4 photos
Jul 24, 2017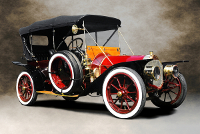 Pierce-Arrow Model 6-36 Demi-Tonneau, 1909
Discovered and restored by Sam Baily, Jr., this Pierce-Arrow became a crucial part of the collector car movement in the United States.
5 photos
Aug 21, 2017