Peugeot
Established 1882: Sochaux, France
A large part of the French automotive firmament, Peugeot represents a long history of competition with the common car. Involved in early 20th century reliability trials and Grands Prix, the firm is latterly known for rally racing. In no small sense, the early Grands Prix live on in rally sport more so than in modern Formula 1, therefore Peugeot's competitive focus maintains a strong everyman flavor that has, to their credit, allowed them to outlive most. Of particular note, Peugeot cars have used largely the same model nomenclature since the 201 of 1929, demonstrating a nearly bewildering sense of continuity.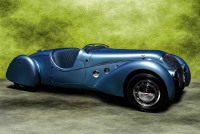 Peugeot 402 Darl'mat Roadster by Pourtout, #400247, 1938
A fantastic package created through a partnership between Emile Darl'mat and Pourtout's Georges Paulin.
14 photos
Aug 19, 2017