---

Duesenberg
Established 1913: Saint Paul, Minnesota
Taking the track of Automobile Quarterly, there was Duesenberg, and then there was everything else. In truth, the cost-no-object engineering marvel that is the Model J saw few rivals in its elegance, refinement, and performance. Duesenberg was a flash of brilliance that signalled the apogee of pre-War automobiles in America, or perhaps the big and mighty counterpoint to Harry Miller's small capacity genius.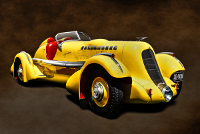 Duesenberg Model SJ Mormon Meteor Special, J-557, 1935
The vehicle depicted here is both the Duesenberg Special run at Bonneville in 1935 under Lycoming power, and also the Mormon Meteor run at Bonneville in 1936 and 37 under Curtiss power. By any name, J-557 is outrageous.
14 photos
Aug 19, 2017